After nearly 25 years in the cabinet hardware business, Cliffside Industries has undertaken the tools of social media to reach a new, wider audience. Social media, from websites like Facebook to the microblogs of Twitter, are a way for Cliffside to connect to customers – fast. While representatives from Cliffside Industries have always been reachable by phone, now you can connect to us even more quickly through your computer or smartphone. Here are some of Cliffside's ways that we reach out to our customers.

Our blog
You are currently reading the oldest and most well-informed part of Cliffside's social media adventure: our blog. This is a great resource for customers and consumers of our product to read about issues and questions regarding our hardware. We draw many of our blog topics from customer questions that we take directly from phone  calls; for example, "What finishes are safe  for customers with nickel allergies?" (our first blog ever) or "What hinge style should I use for this cabinet?". You'll always enjoy our fun posts around the winter holidays too!
We also use our blog to publish press releases about the arrival and introduction of new products. We rolled out our line of hardware suites with new solid brass 8″cc small appliance pulls using our blog, and we have added literally hundreds of new products since our blog was first started near the end of 2008.
Facebook
Facebook.com, according to the New York Times, is the largest social network in the world, serving over 750 million users as of this writing. Cliffside Industries is active on Facebook, sharing links to dealer websites and information about our products. We regularly post information about our customers, and welcome the addition of any Cliffside projects by our dealers to our Facebook page. We also promote our blog through Facebook; each post is linked for quick access.
Our Facebook is also a way to get in touch with staff. If you are online and have a question that requires a quick response, send us a Facebook message; a customer service representative can be with you nearly instantaneously (as long as we're open!).
QR codes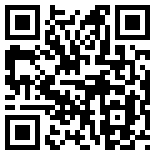 Starting in July 2011, Cliffside Industries has begun using "QR codes", like the one shown at right. QR (short for "Quick Response") codes are readable by many smartphones. Simply scan or photograph the code with the phone, and it will take you directly to related content on the provider's website. Cliffside Industries will begin offering QR codes for mobile users in our printed materials, like promotional offers. The biggest undertaking will be our next catalog, slated for release in early 2012: each item in the Cliffside catalog will be directly accessible, via QR code, from your mobile device. This provides a direct link from our print media to the Cliffside website, which offers a wide variety of information for your use.
Twitter
In all of our promotion of social media, the smallest contributions come through Twitter, where the micro-updates are limited to 140 characters. Knowing how to be succinct is key. Follow Cliffside on Twitter to be among the first to know when new updates are made on our website, to see special promotions, and to be alerted when we feature dealers or products for your viewing pleasure.
I feel like I'm forgetting something…
…oh right. The butterfly.